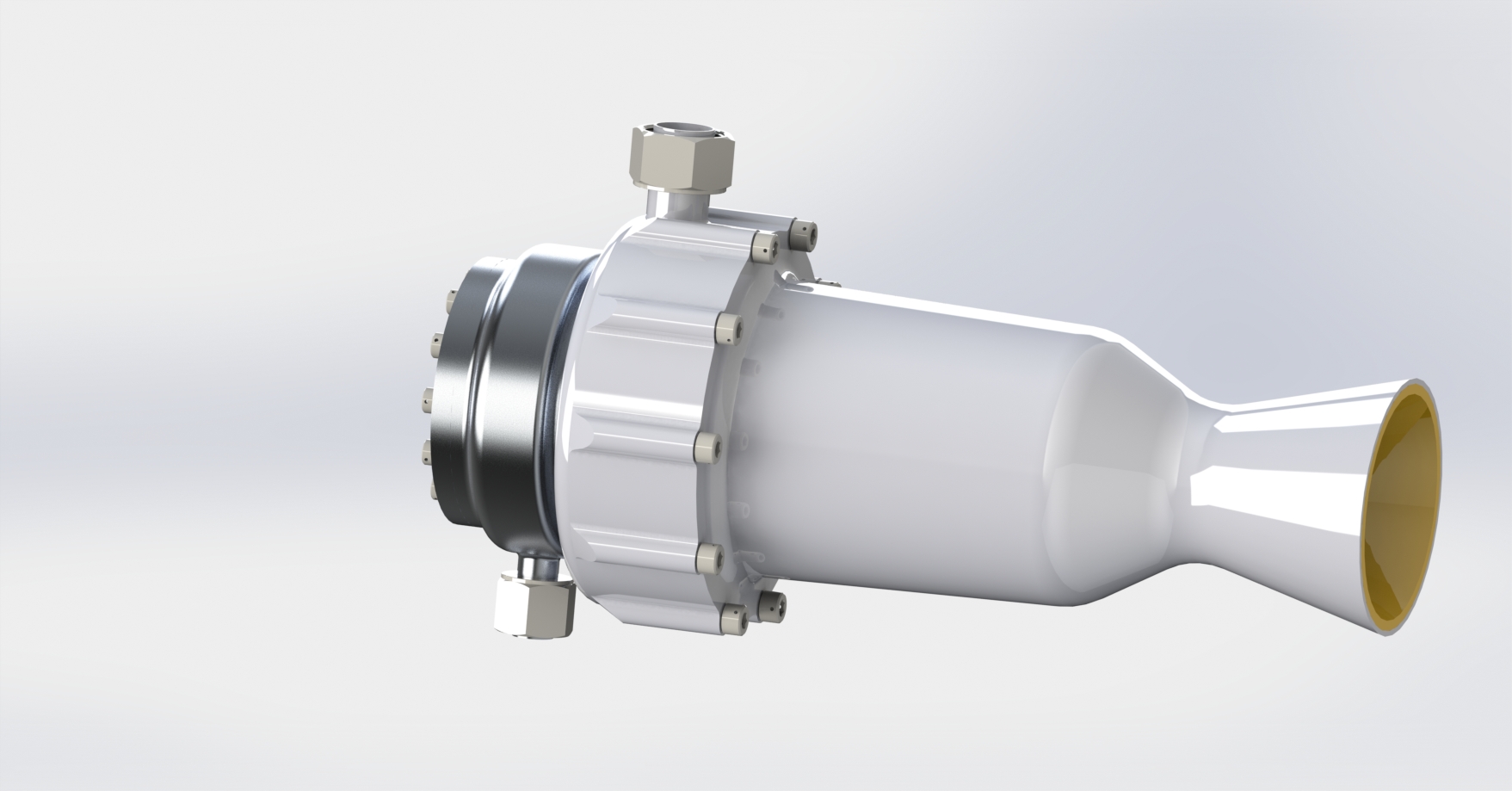 Rocket Propulsion
Triton Space Technologies specializes in low cost operationally practical rocket propulsion systems utilizing non-toxic, storable, propellants.
Triton Space Technologies specializes in low cost rocket propulsion systems. With over a decade of experience in the detail design, manufacturing and testing of rocket engines. Triton Space has particular experience with using liquid nitrous oxide as an oxidizer and all the challenges and benefits of using this non-toxic storable propellant.
Unlike liquid oxygen which is a cryogenic liquid and must be stored and handled at temperatures around -295 degrees F, liquid nitrous oxide can be stored at room temperature or slightly below making it operationally much easier to handle. Nitrous oxide is also not an oxidizer until it is heated above its decomposition temperature of over 1800 deg F, so it can be more readily handled without as high a risk of fire if spilled durring operations. Nitrous oxide is however a momopropellant and can thermally decompose, potentially with tragic consequenses.
However our decade of experience using it as a rocket propellant have provided us with unique knowledge of how to handle and properly mitigate its unique hazards. One of the core elements of our propulsion technologies is the knowledge and experience of how to engineer systems to properly use this unique and promising non-toxic, non-cryogenic, oxidizer.
By leveraging this knowledge we have several innovative propulsion solutions in development and will be developing a portfolio of products that not only support these propulsion systems but may also be utilized for other applications.
Our product line will include valves and regulators and other systems components designed for rocket applications but available at a lower cost than typical aerospace suppliers because we design and build everything in house and we sell to you directly, not through distributors.
Torch Igniter using custom valve manifold and non-toxic storable propellants.
Our propulsion systems under development will bring innovative solutions to suborbital spaceflight and satellite maneuvering as well as provide educational opportunities for inspiring the next generation of scientists and engineers.
There will be a lot more news to come, be sure to check back often for updates and new product developments!